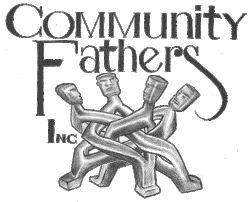 REBUILDING

COMMUNITIES
ONE

FATHER

AT A TIME
WALTER SIMPKINS
Executive Director
Community Fathers Incorporated is a 501(c)3 Non-profit organization that began as a once a week support group for men in the community. The ideology came from Fathers who had been through life's struggles and needed guidance and advice on how to continue through the tough times. A handful of dedicated men showed up weekly and began holding eachother accountable for the decisions they made and the situations they put themselves in.
These committed men started to reach out the community and bring in other men like themselves to further the cause. Little by little the group continued to grow, and ideas were spoken into plans, and plans into development. The group then began to take action in the community, allowing their presence to be felt.
In 2009 Community Fathers was legally incorporated and has sinced evolved into a full functioning fatherhood program that includes: Domestic Violence Offender Accountability Program, Fathers Re entry Program in Schenectady County Jail, Community Fathers Drug Court group, and a group at Trinity Alliance in Albany. Community Fathers Inc also takes pride in that many of the dedicated Board of Directors, now sit on several Boards throughout the County.
No longer is Community Fathers Incorporated just and idea, these men of integrity are taking up the charge to do whats necessary to make sure that our community issues are addressed and properly attended to.They are training up to be the leaders they were meant to be.
​
Walter Simpkins is the Executive Director of Community Fathers Incorporated. He holds a BA from the City College of New York and his credentials also include a Masters degree from the State University at Albany in Africana Studies.
Walter is a certified Fatherhood & Healthy Relationship practitioner, and holds certificates as a NYS Domestic Violence counselor for the Batterers Association, as well as a Bridges Out of Poverty facilitator.
He was awarded the Commission of Human Rights Individual Achievement Award and the New York State Assembly Citation for Community Contributions. Most recently, Walter became the recipient of the Community Hero Award presented by The Schenectady Foundation. Moreover, Community Fathers Inc. was also awarded the Dr. Sherry P. Ulmer Innovator & Affiliate of the Year Award by the Fathers & Families Coalition of America, Inc.; all of which are a testament to his commitment to his community.
Walter has touched many lives throughout the Capital Region. He has been instrumental in changing the way fathers are looked at and respected in family court. He has helped restore hope to the family dynamic in our area. From what began as a once per week support group, has now flourished into a full service fathers program.
Walter is an inspiring individual, electrifying in speech and comforting in his presence. He is single handedly helping to restore families, "One Father At A Time."