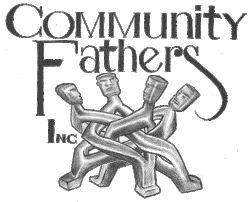 REBUILDING

COMMUNITIES
ONE

FATHER

AT A TIME
Why should I give ?
An overlooked dimension of the unraveling of family has been the diminished role of fathers.
The loss of fathering is a powerful predictor of a host of social problems including: criminal behavior and delinquency, lack of school success, and the increased incidence of substance abuse and mental health problems. Society desperately needs healthy and active fathering.
​
Community Fathers, Inc. has a principle and an action strategy for change. With this goal in mind Community Fathers, Inc. has developed a Male Achievers Program with the objective of character development for youth.
​
​
​
​
​
​
​
​
​
​
​
​
​
​
​
WITH YOUR HELP COMMUNITY FATHERS CAN..
​
Continue to provide the Character Builders Program
The purpose of the Character Builders Program is to provide young males with the opportunity to be exposed to positive character behavior, build their self-esteem and self confidence, explore career options and offer contact with responsible, supportive and caring adults.
​
Expand the awareness of the African-American Burial Ground Project
For the last 3 years the Male Achievers program has been beautifying and preserving this historic site with the support of Price Chopper. This is a restoration project for the African-American burial plot at the Schenectady Vale Cemetery, formally called "The Old Colored Plot" prior to integration in Schenectady. Some of the most notable people buried there are Colonel Jared Jackson, a civil war veteran, Moses Viney an escaped slave, who became Union College President Eliphalet Nott's coachman and eventually owned his own business, and Margaret Robinson, a former slave who died in 1868 at the age of 108, and was the last Schenectady witness to
the American Revolution.
​
Launch additional Male Achievers Programs in other Local High Schools
An under-served population are the fathers trying to complete their education in our school systems. Giving these young men information about parenting and understanding that true success in life comes from knowing who they are is crucial to where they are going in the future. We hope to be able to spread this message in other local schools that need male attention and the tools to relate better to one another.
​