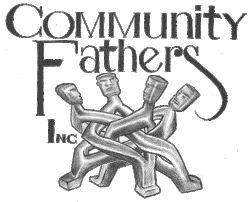 REBUILDING

COMMUNITIES
ONE

FATHER

AT A TIME
We have established ourselves as a full-functioning Fatherhood Program. We have various outlets and resource programs in the area and continue to establish ourselves as a premiere fatherhood establishment. Take a look below...
The cornerstone of the Community Fathers movement.
This is a weekly support group for men in the community. All men are welcome to come and join us. This lighthearted, yet informative group meeting is a breath of fresh air in that we give each other the necessary motivation to continue through our weekly trials.
For more information, please contact us
Domestic Violence Offender Accountability Program
Based on the NYS Batterers Model, Community Fathers Inc. mentors were trained in Rockland County in Domestic Violence Batterers facilitation. Although this program began two years ago, we have since had ten participants successfully complete the program and we continually check in on their progress.
Participants of this program are generally referred by several places such as court mandates, drug court, Parole or Department of Community Correction and Supervision.This is a 26 week or 52 week mandated program and we meet every Tuesday from 6:00 P.M.-7:30 P.M.ET.
For more information, please contact us
Community Fathers Inc. has a men's support group located in Albany, NY., in collaboration with Trinity Alliance of the Capital Region. Based on the original premise of Community Fathers, Inc. Support group, as an expansion project, this support group assists men with Fatherhood complexities, and guide them to other pertinent resources if necessary.
​
Trinity Alliance of the Capital Region, in accord with Community Fathers Inc., is dedicated "to providing services to the community that will support and promote healthy families-adults and children. The agency is dedicated to improving the neighborhood as a setting for family life, contributing to health and well-being, and promoting education and employment as a means of self-development."
The Trinity Alliance Group meets every Tuesday in Albany, NY from 1:00 P.M.-3:00 P.M.
For more information please contact us

In collaboration with the Schenectady County Drug Court, Community Fathers Inc. has a weekly men's group based on the principles of drug court and the premise of sobriety. Drug Court is suggested as an alternative to incarceration.
.
This process involves coordination between defense attorneys, prosecutors, treatment and education providers and law enforcement officials. Rules of participation are defined clearly in a contract agreed upon by the defendant, the defendant's attorney, the district attorney and the court.
For more information, please contact us
Formed to establish a relationship with inmates in the county jails, Community Fathers Inc. works to help address inmates questions, concerns, or issues prior to being released.
By offering them the support necessary to pay their dues for the crimes they have committed, Community Fathers mentors provide these incarcerated individuals the motivation and tools needed to remain positive by holding them accountable as men of standard.
Preparing them for their release and putting together a plan of action is key to the success of this endeavor and to their re-entry into the community.
This group meets on Friday at 6:00 P.M. at the Schenectady County Jail.
For more information, please contact us
Network-of-Winners (N.O.W.) was created in Schenectady, New York to aid the unemployed, underemployed and all other job seekers in the community by providing basic job readiness skills needed to increase one's potential in getting and keeping a job.
To facilitate community members in the building of soft skills and linking them to honorable, purposeful and gainful employment so they may become economically stable, taxpaying citizens.
Tuesday Table Talks are held each Tuesdays between 10:00 A.M. - 12:00 P.M. at 920 Albany Street, Schenectady, NY 12307
For more information, please contact us
The purpose of Community Fathers' Inc. Male Achievers Program
is to reassure that urban youths develop and/ or are given the tools necessary to successfully transition into adulthood, with a strong emphasis on personal and socioeconomic growth.
CFI seeks to pursue this endeavor by engaging in cross-sector dialogue to achieve shared objectives with other agencies, governmental entities and local leaders, school districts and officials, local business and other stakeholders to remove barriers to success wherever they may exist and replace them with ladders of opportunities.
For more information, please contact us
Community Service Volunteers
One of our ideologies is the importance of giving back to the community, not only with our presence but by our efforts.
We feel it necessary to set the example by being involved in all aspects of community engagements. Whether it is community cleanups, board meetings on several levels, neighborhood coalitions, community events, marching for a cause, program building, or city and county representation, Community Fathers are there and ready to give to our community.
For more information, please contact us